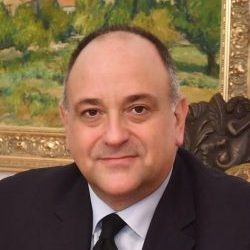 Dr. Milan Parivodic is principal lawyer in PARIVODIC ADVOKATI and general counsel to the Geological and Mining Association of Serbia (GRAS). Having top UK and Serbian legal training Milan is the trusted advisor to international companies in their legal and government relations needs in Serbia. His team of eminent lawyers work on complex investment projects, often in highly regulated industries and take full care that the investment moves forward efficiently and lawfully - as planned. His approach to solving problems is always very practical, hands on, ethical and legal.
He served as Serbian government minister of international economic relations and minister of finance (2004-2007) but he is not politically active nor working in any capacity for the state since 2008.
Milan's highest expertise is in mining law, government relations, environmental law, foreign investment law, real estate and construction law, other regulated industries, all kinds of international business transactions and contracts and corporate matters and financial law.
He is well known for introducing breakthrough novelties into Serbian legislature. In the last 15 years participated in drafting Serbian commercial legislation: Foreign Investment Law (2015), Mining Law (2015), Foreign Trade Law (2005), Arbitration Law (2006), Mortgage Law (2006), Religious Communities Restitution Law (2006), Foreign Investment Law (2002), Concession Law (2003), Law on Efficient Protection of Intellectual Property (2006), draft Property Law (2006), draft Law on Restitution (2007).
Previous work
2007-2009 Partner in Austrian law firm Wolf Theiss,
2007-2008 Advisor to the Prime Minister of Serbia for economy and law
2006-2007 Minister of Finance of Serbia
2004-2007 Minister of International Economic Relations of Serbia
1991-2004 Lecturer in civil law at Belgrade Faculty of Laws
Minerals exploration and mining in Serbia: law and government policies
Why has Serbia become an exploration and mining champion in South-Eastern Europe in the last 5 years?
How to enter the market, how to set up?
What are legal requirements and guarantees of long-term minerals tenure?
What are the the public policies of government to exploration and mining.
How can Parivodic Advokati help you succeed in your investment in Serbia?