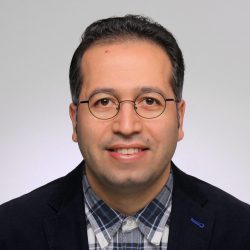 Rasoul completed his studies in processing of primary and secondary raw materials at RWTH. He focuses on physical separation, specially on Sensor and Magnetic based Sorting.
With his technical background he acts as area sales manager in Southern Europe, North Africa and Middle East.
Physical beneficiation of low-grade manganese ore with high intensity magnetic separation
This case study focuses on applying dry high-intensity magnetic separation to low-grade manganese ore and the combination of this method with screening to target paramagnetic manganese carrying minerals. The machine used for the trials was a STEINERT HGS, equipped with rare earth magnets, installed in the laboratory of Steinert GmbH in Cologne, Germany.
With the separation performance a concentrate mass of 26.26% and a total manganese recovery of 70.1%, with an average grade of 24.93% Mn was achieved. Next to its economical advantages, this process has a considerable impact on the environmental footprint of the beneficiation plant. Applying dry high-intensity magnetic separation will reduce processing costs significantly. The process does not require any ultra-fine crushing and eliminates chemicals or water consumption as per conventional systems.
As another benefit, it generates suitable material for backfilling in the mine, without contamination or relevant mineralisation. This concept can be used as a stationary or mobile solution in combination with suitable crushers and screens.
Keywords: Low-grade manganese ore, dry high-intensity magnetic separation, beneficiation, STEINERT HGS, recovery, purity, environment, processing costs, mobile plant