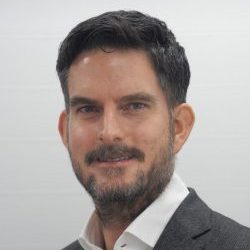 Brett is a graduate geologist from the Royal School of Mines. Brett has over 20 years of experience gained working on mining and exploration projects in Europe, Africa, and the Middle East in base metals and gold. His involvement has covered projects from grassroots exploration through to development. Brett is from south-west England, and joined Cornwall Resources in January 2017, since when, as Exploration Manager, he has led the ongoing successful exploration campaign on the Redmoor tin-tungsten-copper project.
Redmoor, Cornwall: A Cornish Mine of Global Significance
From pre-history to the 19th century southwest England played a major role in global metal production, producing significant proportions of global tin and copper supply. Few new mineral discoveries have been made in the last century, largely due to a lack of exploration activity rather than a lack of prospectivity.
The Redmoor tin-tungsten-copper deposit in eastern Cornwall, provides an instructive example of successful exploration in the region, which represents one of the most heavily mined but under-explored parts of the world. Extensive historic mining has occurred at Redmoor from mediaeval times to 1943, on lodes for tin, copper, tungsten, lead, and silver.
Modern exploration work was initiated by South West Minerals in the 1980s, and identified the presence of sheeted vein style mineralisation. More recently, Cornwall Resources commenced a new phase of exploration in January 2017. Over 14,000 m of diamond core were drilled in 2017 and 2018, which, when combined with previous data has enabled the creation and validation of a new geological model, and calculation of a significant Inferred Resource of 11.7 Mt with a metal content equivalent to 1.17% tin.
The resource already identified is believed to represent a world-class tin-tungsten deposit. Additional exploration target potential remains, both along strike and down dip. These results clearly demonstrate the opportunity for the region to play a significant role in driving a resurgence of the UK metals industry.