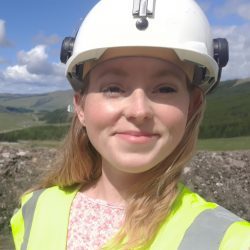 Charlie is a University of Southampton MSci graduate, with her masters year research focussed on the geochemical behaviour of gold in the western Anatolian volcanic province. Charlie has been with Scotgold for just over two years, initially involved with the Grampian Project exploration, but her role has evolved to a sharper focus on the mine geology of the Cononish Gold Mine, especially as the mine is being brought into production.
Scotgold Resources: Advancing the Cononish and Grampians projects through remote working.
As Scotgold Resources readied itself for the final push towards beinging the Cononish Au+Ag mine into production, the coronavirus pandemic took hold of the UK and the country was put in lockdown. Delays to construction of the processing plant were unavoidable and the 'stay at home' message meant geological fieldwork could not be completed. Despite being unable to complete work as usual, the team have been able to remain productive and add value to the project by working remotely. Time has been taken to revise plans, review historic data and analyse results giving a refreshed outlook as we head back towards normal working and getting the Cononish gold mine into production.