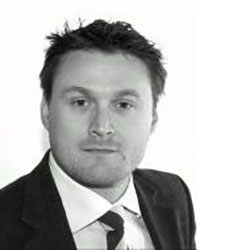 James Gilbertson
Managing Director
SRK Exploration
James has over 20 years of experience in target generation, exploration discovery, design, management and supervision and Mineral Resource estimation of various commodities globally. James joined SRK in 2005 as a resource and exploration geologist. Between 2014 and 2016 James operated across South America and established and managed the Geology/Mining Department within SRK Consulting (Peru).
During this time he has become a Chartered Geologist and Competent Person (CP) with the Geological Society London.
Prior to joining SRK, James worked in the junior sector across West and Central Africa culminating in the discovery of the Passendro gold project.
During his professional career he has gained experienced in a range of exploration/mining disciplines including mineral exploration practices, planning and management, GIS, resource and grade control drilling and sampling, quality assurance and control protocols, mine infrastructure optimisation, geotechnical logging and slope and ground stability issues.
His responsibilities at SRK ES include exploration programme designs and reviews, Mineral Resource development programmes and exploration risk mitigation and associated project valuation, ranking and optimisation programmes.
He also specialises in governmental/ministerial level advice and liaison and has recently managing mining industry strategy development, technical support, training and advisory services to the Government of Afghanistan and Sultanate of Oman.