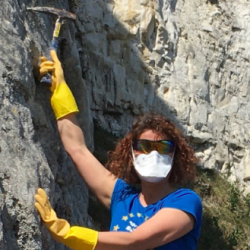 Tanya started career as a keen young geologist, roaming the mosquito-infested forests on Kola peninsula in Russia exploring for nickel, and snow-covered steppes of Northern Kazakhstan, in search for gold. The first 5 years were spent with BHP Exploration, based out of Moscow, working in Russia, Kazakhstan and Australia. 11 years in Canada were spent working on diamond and gold exploration in Nunavut, base metals in British Columbia, and uranium, coal and shale gas in Alberta.
Seeking new adventures, Tanya moved to the Netherlands, and started working in Africa, evaluating opportunities for rutile in Cameron, tin in Rwanda, bauxite in Guinea and iron ore in Tasmania. Most recently, Tanya worked for Behre Dolbear Minerals Industry Advisors based in UK. Tanya started working as an independent consultant in 2019, focussing on exploring opportunities to introduce blockchain technology into mining.
Is blockchain on your to-do list? It should be.
As we are in quarantine, now is a great time to learn about the technology that is actively penetrating every area of economic activity and life. It is now long overdue that people in the mining world understand that blockchain is not about cryptocurrencies only, but indeed, a paradigm shift for the entire world economy. And it is happening very quickly. As major car and electronics manufacturers demand transparency of their supply chains, many start-ups all over the globe are rising to the challenge to provide a solution – tracing the metal movement from the mine, through processing, trader and all the way to the manufacturer. There are many difficulties, but, as philosophy goes – they are challenges to overcome, and not a show-stoppers. De Beers and Alrosa diamonds are now being successfully tracked on major blockchain platforms. For tin, cobalt and gold multiple blockchain-based solutions have been developed by established miners and traders but also by small-scale miners. The beauty of blockchain-based solutions is that they are very scalable and can be implemented quickly. We don't even need to re-invent this bicycle to ride it – we can look at other industries, understand what processes they are using and how they are similar to ours, and implement what worked for them. In real estate blockchain helps to track properties as they pass from owner to owner – our exploration and mining licenses are our properties – so logical solution – look what real estate is doing – adjust – implement. Many construction companies are implementing smart contracts based on blockchain. Our mines are big construction projects – look what is being done, adjust, implement. Blockchain technology is out there ready to go. It is up to us, experienced miners, to educate ourselves and work with technology developers. Don't just get ready, miners. Do it.